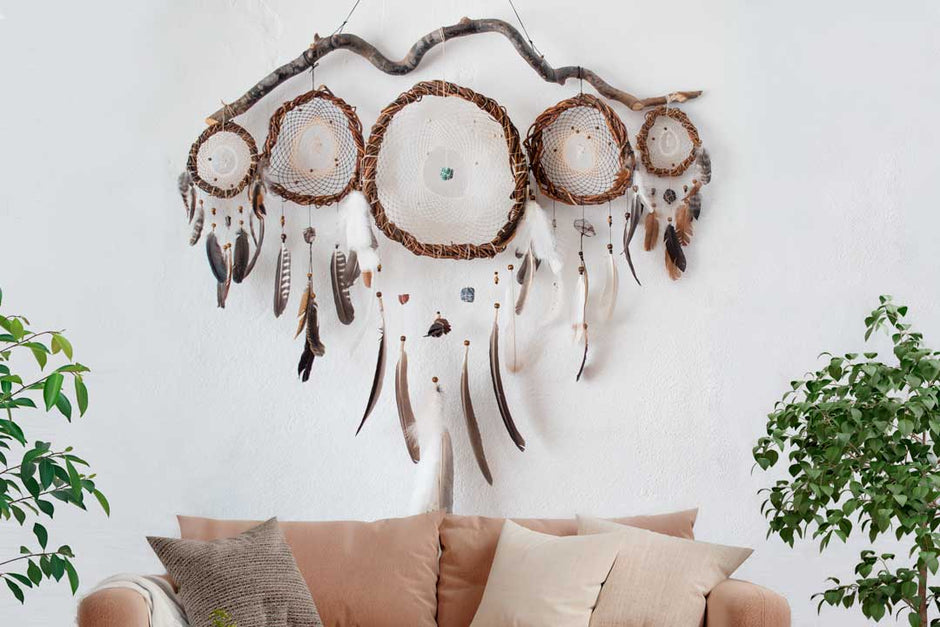 NEW IN
Introducing our Wall Collage Dreamcatcher Collection: Transform Your Space with Spiritual Wall Decor
Elevate your wall decor with our exquisite Wall Collage Dreamcatchers, ideal for creating a captivating and spiritually-inspired ambiance. Crafted with multiple interconnected nets, these unique wall hangings form a stunning collage that combines artistry with positive energy.
Choose from our selection of dreamcatchers featuring 3, 6, or 10 nets, or request a custom design tailored to your preferences. Each dreamcatcher in this collection is meticulously handcrafted, incorporating a wide variety of semi-precious stones. These stones not only enhance the visual appeal but also infuse your space with their inherent energies.
Our Wall Collage Dreamcatchers serve as powerful symbols of protection and spiritual decor. Place them above your bed or in the living room to create a focal point that sparks intrigue and invites serenity. Immerse yourself in the transformative power of these artful wall hangings, carefully designed to harmonize your space and uplift your spirits.
Discover the enchantment of our Wall Collage Dreamcatchers and infuse your home with the positive energies they offer. Enhance your wall decor with these captivating pieces, expertly crafted to inspire and captivate. Experience the beauty of spiritual decor and create a sacred space that radiates tranquility.